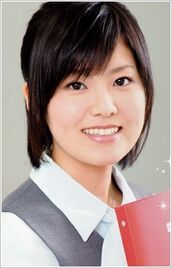 Hisako Kanemoto (金元 寿子 Kanemoto Hisako, born December 16, 1987), also known as Juri Aikawa (相川 寿里 Aikawa Juri) is a Japanese voice actress who voices Hinano Kurahashi in the Assassination Classroom Anime. She is affiliated with Production Baobab.
Other Notable Roles
Ad blocker interference detected!
Wikia is a free-to-use site that makes money from advertising. We have a modified experience for viewers using ad blockers

Wikia is not accessible if you've made further modifications. Remove the custom ad blocker rule(s) and the page will load as expected.