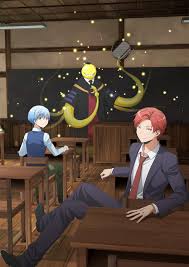 Assassination Classroom the Movie: 365 Days (Ansatsu Kyoushitsu: 365-Nichi no Jikan 劇場版『暗殺教室』365日の時間) is a sequel summary anime movie that summarizes the entire anime series featuring adult Nagisa and Karma telling the story of the Class 3-E how Korosensei made them what they are now in days.
It was revealed in 46th issue of  Shueisha's Weekly Shonen Jump magazine revealing more plot details on Monday about the original story included in the Assassination Classroom The Movie: 365 Days compilation anime film.
Trailers
Gallery
Ad blocker interference detected!
Wikia is a free-to-use site that makes money from advertising. We have a modified experience for viewers using ad blockers

Wikia is not accessible if you've made further modifications. Remove the custom ad blocker rule(s) and the page will load as expected.