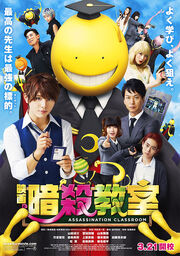 Assassination Classroom Live-Action is a live action film adaptation of Yusei Matsui's Assassination Classroom manga that was released in Japan on March 21, 2015.[1][2]
The tagline for the film is "Well, everyone, it's time (a class) to assassinate."[3]
Production
The live action film was directed by Eiichirō Hasumi. The filming was scheduled to began in August 31.[1] According to the film's Twitter account, most of shooting parts of class 3-E's student casts have already finished by October 10. However, post-production of the film, which is related to CGI-created Korosensei still has a lot of work to do.[2]
Cast
On August 27 it was revealed that Ryosuke Yamada, a 21 years old member of boys idol group Hey! Say! JUMP, will play Nagisa Shiota in the film. Yamada is also best for his role as Hajime Kindaichi in TV drama live-action adaptation of the manga, Kindaichi Case Files, The Files of Young Kindaichi Neo.[1]
It also revealed that, former member of the K-pop unit KARA, Kang Ji-young was casted as Irina Jelavić for this film. This is her debut for acting a film.[4]
The voice of Korosensei for this film was revealed in Shueisha's Weekly Shonen Jump 17th issue of 2015. A member of idol group Arashi member, Ninomiya Kazunari will be responsible voicing the said character.[5]
Other 3-E students casts were revealed via the film Twitter's account.
Cast List
Gallery
Videos
References
External Links