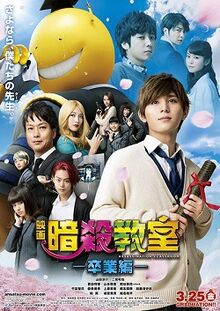 Assassination Classroom: Graduation  (暗殺教室 卒業編 Ansatsu Kyōshitsu: Sotsugyō-hen) is a live-action sequel of the previous Assassination Classroom live-action and was released in Japan in March 25, 2016 which is the same day that the original manga ended.
Production
It was directed by Eiichirō Hasumi and written by Tatsuya Kanazawa. The film was announced in April 2015. The casting of Mirei Kiritani as Aguri Yukimura and Kazunari Ninomiya as the God of Death was announced in September 2015. The casting of Hiroki Narimiya as Kōtarō Yanagisawa was announced in December 2015 and the casting of Tsuyoshi Abe as Red Eye was announced in January 2016.
Cast
The previous castof the original movie returns as the same characters they played in the previous movie and with a new character Yanagisawa.
Gallery
Videos
External Links
Assassination Classroom: Graduation on wikipedia.